This feature available on All Plans (except where noted)
Overview
When building a form in your campaign, you may find yourself wanting to save some work by copying and pasting Field Widgets into your Form Container. However, this may not give you the result you're expecting.
Setting up a Field Widget for the first time, you'll need to establish the type of field - that process is covered in the Field Widget help doc. Once the Field Widget is set up and saved, the type of field and some of the settings can't be changed.
What this means is that if you have, for example, a text field you've set up and you'd like to use the same formatting for a different text field - you can't just copy and paste it, then change the settings to reflect what you want to collect with the copy of the field. Any changes would affect both the copy and the original, and any info submitted to one instance of the field would automatically be filled in for all other instances of that same field in the form.


Examples
If you copy and paste a Field Widget that already has its type and settings established, you'll see the following prompt: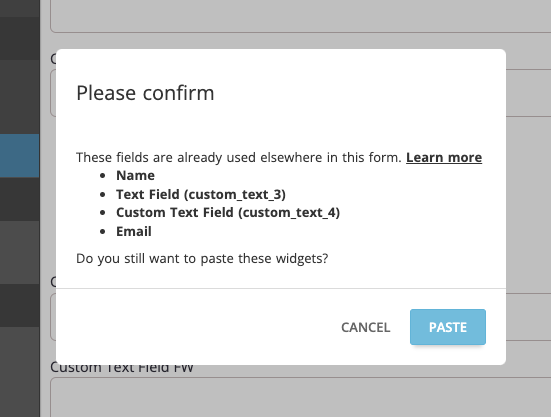 This is to let you know that the field(s) that you are trying to paste into your campaign is already being used elsewhere in your Form Container.
If you do decide to move forward with pasting already-used Field Widgets into your campaign, you'll see this alert message at the bottom of the widget settings pop-up: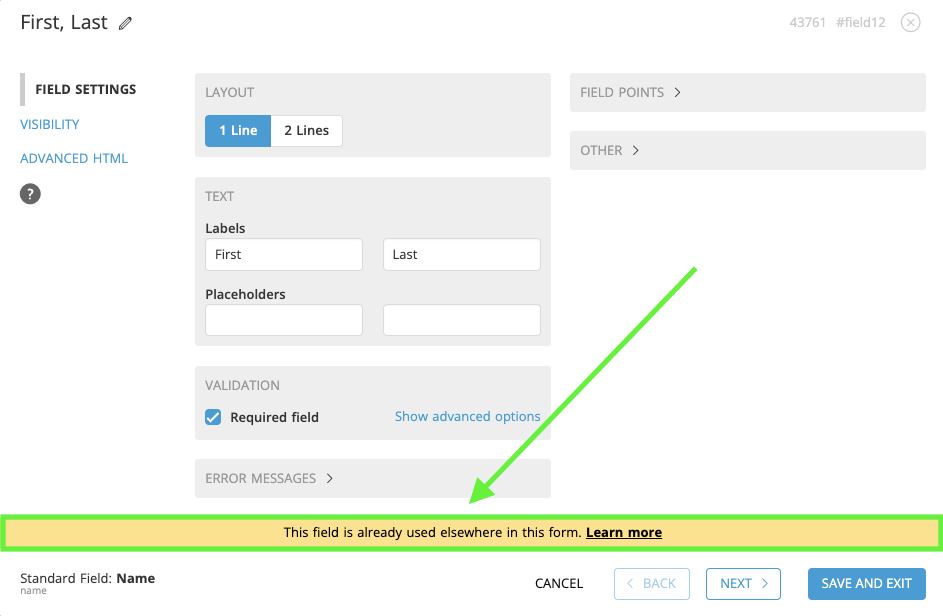 These prompts/alerts only show for fields duplicated within the same Form Container, and the only way to encounter this situation is by pasting them into your campaign.


Note: When adding a new Field Widget, you won't be able to choose a field already in your form; but we've kept the ability to paste duplicates in order to support some advanced use cases.


Related Resources

The Best Types of UGC to Collect and Use (Blog)