Getting There
From the Dashboard, click your name in the top menu, and then click Preferences at the top of the page.


Layout

The Preferences pages is laid out in three sections. To change the information appearing in the first two sections, simply click the blue Edit button for the appropriate section.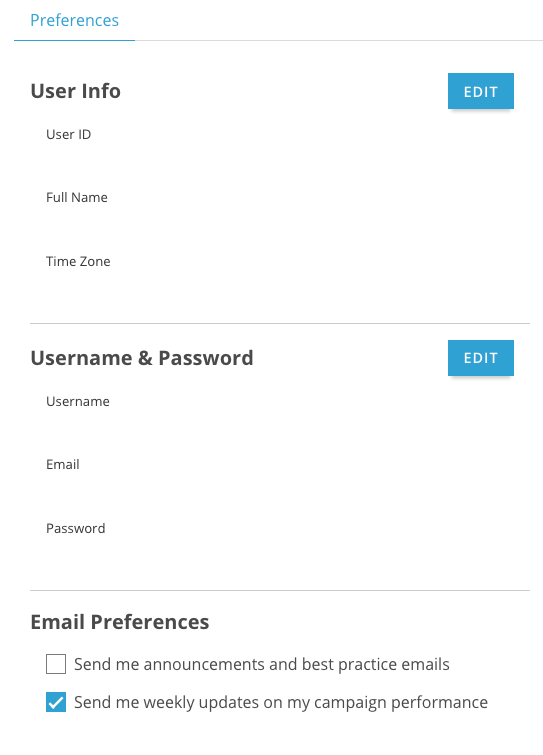 User Info
User ID: Your ID as it appears in the back end of our system. The only time you'd really need to know this is if the support staff asks for it.


Your Full Name: Appears in the top menu. You can change it to anything you'd like.


Your Time Zone: This is used wherever time values are displayed in ShortStack. Set this to your local time zone to see dates/times in that time zone.


Username & Password
Username: Enter/change your username.


Your Email Address: If you change your email address, you'll be sent a verification email to confirm you can receive email from us.


Password: Due to security, your password will not be shown in plain text, but clicking the Edit button in this section will allow you to change your password.


Email Preferences
Send me announcements and best practice emails: Checking this box will subscribe you to our marketing emails, full of new feature announcements and campaign ideas.


Send me weekly updates on my campaign performance: Checking this box will send you a digest email once a week with a quick glance at your campaign statistics.
Related Resources

Managing Your Account (Help Doc)