These features available on All Plans


Contents
About
Display State
Device Visibility
Time-Based Visibility
Country-Based Visibility


Getting There
Add a new widget or click the pencil icon to edit an existing widget and open the widget settings pop-up. Then, find and click on Visibility on the left.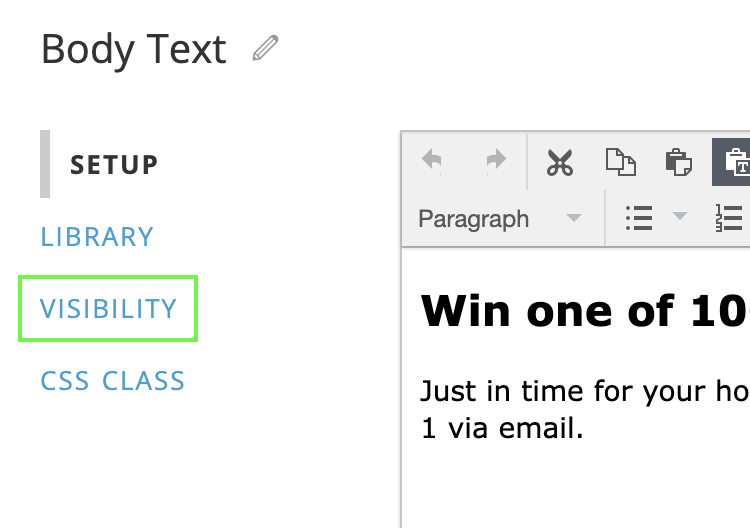 Alternatively, if you hover over any widget in the Edit Widgets Panel, you can click on the eye icon to jump directly into the Visibility section of the selected widget's settings.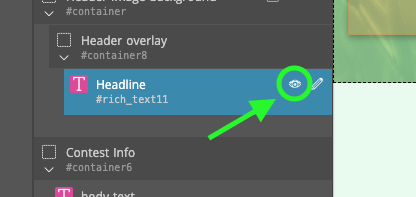 About
Use the Visibility menu to change who can see content on your campaign, and when they can see it.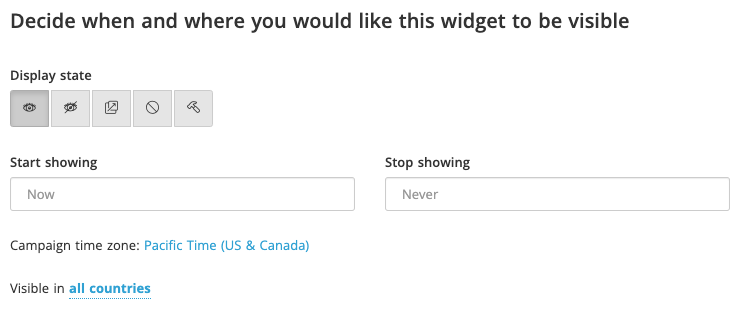 Display State
Display State Settings affect how the campaign is displayed based on user interaction with the campaign itself, as well as the state active and inactive state of the widget. They include:
Normal: Default setting. Visible as soon as the campaign loads on the visitor's browser.


Starts Hidden: The widget starts out as invisible but is included in the page source, so it can be activated by another widget, such as our Action Widget, or custom JavaScript. When it is displayed, it appears in line with other widgets on the campaign.


Popup: The widget starts out as invisible but is included in the page source, so it can be activated by another widget, such as our Action Widget, or custom JavaScript. When it is accessed, it appears in a pop-up window. When selecting this option, you can also set a pop-up title to display at the top of the widget pop-up.


Inactive: The widget is not visible on the campaign or in the Live Preview, and it is not included in the page source. You may want to use this when you want to deactivate, but not delete a widget (i.e. when you want to stop accepting entries to a form).


Builder-Only: The widget is only visible in the Campaign Builder. It is not visible to end-users.


Device Visibility
Device Visibility (desktop or mobile) is set in the Style Panel; for more information on that, check out our Style Panel video.


Time-Based Visibility



Scheduling a widget's visibility is a perfect way to showcase upcoming events, seasonal changes, a limited-time promotion, or to schedule fresh content for your visitors in advance. Time-based visibility settings run off of our server's clock, so if you set time-based visibility, it is imperative that you select the correct time zone for your campaign. There are three settings to adjust to schedule a widget:
Start showing: The date/time the widget will start displaying on the campaign. The widget will be hidden until this date/time has passed.


Stop showing: The date/time the widget will stop displaying on the campaign.


Campaign time zone: The time zone used for the start and stop showing times.
Click on the Start Showing or Stop Showing fields to access a date picker. You can enter a specific time of day for the Start Showing and Stop Showing settings, but the popup calendar won't do that part for you. Just type in a time of day along with your date, such as "Jan 1, 3:00 PM."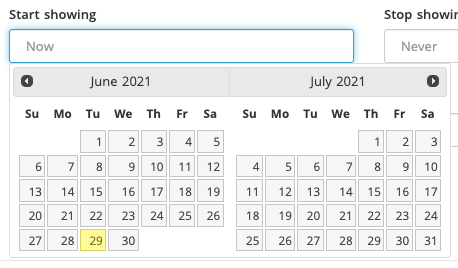 Country-Based Visibility
Country-based visibility settings are used to display different content based on the country from which the visitor is viewing the campaign. We use the visitor's IP address to determine their country. By default, every widget is visible in all countries.

To access the country picker, click all countries and select specific countries from the dropdown.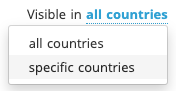 Click a country to select it, or click the Select All button to select all countries. Use the arrows to move the selected country or countries between the Visible Countries and Non-Visible Countries columns.