These features available on All Plans


Overview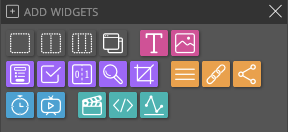 Use the Add Widgets Panel to add widgets to a campaign. When the Campaign Builder loads, the Edit Widgets Panel is open by default. You can close and reopen it by clicking on its icon on the left side of the page.
When the panel is open and Auto Layout is turned off, you can click and drag the header to move it around the work space and position it where you'd like it. With Auto Layout turned on, it will appear in the top-left hand corner of your workspace. Click the panel, then drag the panel's bottom-right corner to re-size it.

Getting There
Click on the Add Widgets Panel button at the top-left of the Campaign Builder.





If you'd like to move the Add Widgets Panel to a different place on your screen, click the Auto Layout icon to turn off Auto Layout, then just click and drag the panel to your desired location.


About
Click on a widget's icon to add it below a selected widget in your Campaign Builder, or click and drag a widget's icon to the preview area of the Builder to place it in that specific location in your campaign. When you add a widget, the widget settings window pops up so that you can customize the widget. When you're done making changes, click Save & Exit at the bottom-right of the widget settings window to close it, and the widget will appear on your campaign.


Related Resources

Getting Started With ShortStack (Video)
Widgets At A Glance (Help Docs)