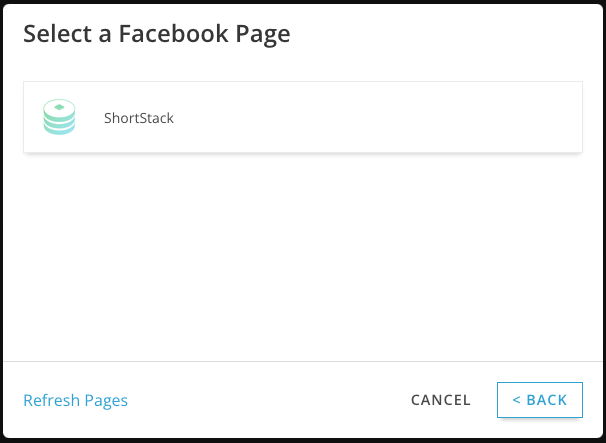 When you are going through the steps to import likes and comments from a Facebook Timeline Post or comments from an Instagram Post, you're presented with a list of Facebook Pages you manage, similar to the image above.
What happens if the list is completely empty, or missing Pages you'd expect to see? Simply walk through these steps to troubleshoot:


Diagnostic Step #1
Make sure you're an admin of the Facebook Page(s) you expect to see.
If you don't see anything, it means your personal profile is not an admin of any Facebook Pages, nor have you been given appropriate Page permissions in Facebook Business Manager.


Diagnostic Step #2
Make sure you are logged in to a personal Facebook account and not a business account.
To verify, log in to Facebook. If you see Create Your Profile in the blue menu at the top of the page, you're logged in with a business account.
If that's the case, you need to link your personal Facebook profile to ShortStack and add your profile as an admin of that Facebook Page.


Diagnostic Step #3
Make sure the ShortStack Facebook integration is set to show all the Pages to which you have admin rights.
Log into Facebook.


Click on your profile pic in the top-right, and select Settings & privacy from the dropdown.




Click on Settings in the Settings & privacy submenu.




Click on Business Integrations in the menu on the left.




Find ShortStack, and click the View and edit link on the right side.




Scroll through the settings until you find the Show a list of the Pages you manage section - make sure all the Pages you want to have show up on your list are checked, then click save.




Go back to ShortStack and try your import again.


Diagnostic Step #4
Follow the instructions to Deauthorize ShortStack.


Afterward, log in to ShortStack and try to import your comments again. You'll be prompted to grant permission to ShortStack as if you were a new user.