This feature available on All Plans


Contents
Adding a Form Widget
Adding a Points for Actions Section
Setting Up the Buttons Widget


Overview
The Points for Actions template is a great way to reward your contest entrants with additional entries ("points") just for visiting different websites--including your social media accounts--or viewing videos. However, this functionality is not limited to that single template; this help doc covers adding the Points for Actions feature into any campaign you've built - even ones you've set up using a different template.
Adding a Form Widget
For the Points for Actions feature to work properly in your campaign, you must be collecting your entries using a Form Widget. To add a Form Widget to your campaign, simply click on the Form Widget icon in the Add Widgets Panel, or click and drag the icon into your preview area. For additional information on fully setting up a form, check out our Form Widget help doc.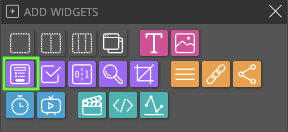 Adding a Points for Action Section
There are many different ways to design your campaign to include Points for Actions; here, we'll just walk through one way to give you an example. Following the steps here will give you a Points for Actions section that looks something like this: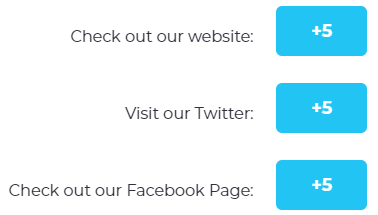 Again, note that you can design and align the buttons and the text any way you'd like to fit your specs.
Start by adding a Container Widget to your campaign. Just click the Container Widget icon in the Add Widgets Panel. We also highly recommend relabeling any new widget you add to your campaign, as a best practice to keep things organized.




Inside this new container, you'll want to add a Two Column Layout Widget. This will give you two nice columns for your action: One side for the label, and the other side for the button.




Drag and drop a new Rich Text Widget into the top half of your Two Column Layout Widget; this controls what displays in the left column.




Add your text in the widget settings, then click Save and Exit to save. You'll see your change reflected in the Campaign Builder.






Now to add your button: Drop and drag a new Buttons Widget into the bottom half of your Two Column Layout Widget to position it to the right of the label you just created.




Go through the Setting Up the Buttons Widget section below to set up your points button. Once you're done, you should see an action button and its corresponding label in your campaign just like this:




To add additional actions for your entrants to earn more points; simply go back through steps 1-6, adding a new Two Column Display Widget below your previous Two Column for each new action you want to add. Be sure to keep all of your new Two Column Layout Widgets inside the same Container Widget, just to keep your campaign organized. Use the Style Panel to set alignment, style, and color to get things looking exactly like you want - then you're all done!


Setting Up the Buttons Widget
When you add a new Buttons Widget, the Link popup will open automatically, with all the options for your new button.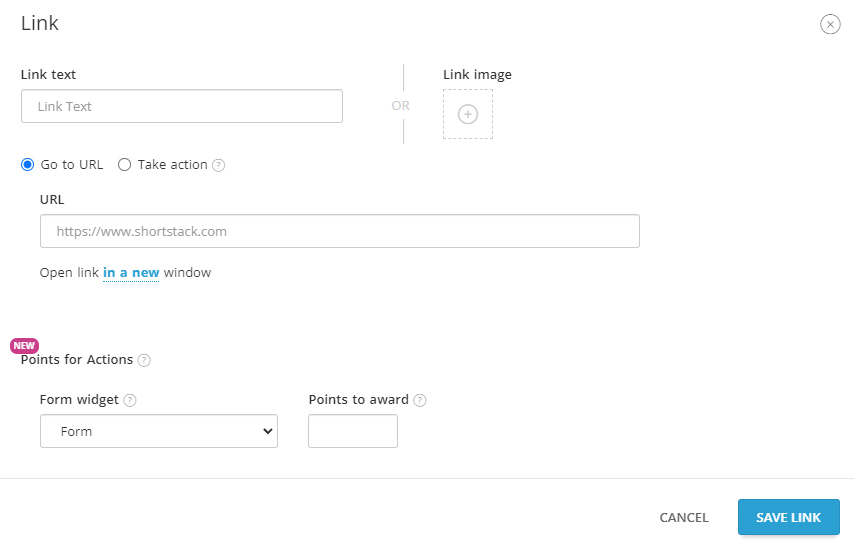 First, you'll determine the text or image used for your button. Add text using the Link text field, or click on the + icon under Link image to open the Media Library and select an image to appear on your button. A good practice is to add a text label that shows how many points the action is worth.




Now you'll add the link that you want to have your entrants visit to earn their points. Select the Go to URL radio button, then type the URL of your selected site into the URL field. Since you'll be adding Points for Actions, you will be required to have the link open in a new window.




Now to officially set up the Points for Actions functionality: Use the Form widget dropdown to link the button to the Form Widget where you're collecting your entries for the campaign. Then, use the Points to award field to designate how many points will be earned.




When you've finished, click on Save Link to be brought back to the Setup section.




You'll see your new button appear in the Setup section; all the needed information about the link is available at a glance.



You'll see the text you added to the button (or a thumbnail of the image you used) and then either the name of the action that is triggered or the URL to which the button is connected.


Note: At this time, there is no way to show your entrants a running tally of how many points they've earned unless you built your campaign using the Points for Actions Template. Keep this in mind when choosing your template!
Related Resources

Points for Actions Template (Video)