These features available on All Plans


Getting There
From the Dashboard, click your name in the top-right corner and click Account Summary from the drop-down menu.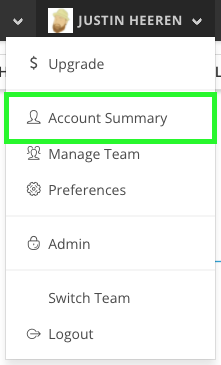 Layout
The Account Summary page is broken into four tabs: Summary, Preferences, Payment, and Statements.


Summary
The Summary tab is broken down into five smaller sections:
Current Plan: This pane will show you the name of the Plan you're on. If you'd like to change your Plan, click the Change Plan button on the right.



If you're looking to pause or delete your account, the Pause or Delete Account link is what you'd click to start that process.
Note: If you're on an annual plan, you'll see a Delete Account link in this section instead, as pausing is not available on Annual Plans.

Subscription: Shows you your subscription's status (Active or Paused) and your subscription's renewal date and time (also known as your Billing Date).




Usage: This is where you can see your account's metrics: The number of Entries, Campaign Views, Team Members, and Feeds. This area also lists your account allowances. There are links on the right that take you directly to the Entries Manager, Campaigns Manager, and your ShortStack for Teams page.




Plan Features: Here is where you can see what features are available to you in your current plan, and also the minimum plan needed for features you don't have access to. You can use this section to initiate a 3-day trial of features you don't have; information about that process is in our Free Trials for Paid Features help doc.

This section will also display information about what trials you've already used.




Preferences
The Preferences tab is broken into three smaller sections:
User Info: This will show you the User ID, the Full Name you've entered for your account, and the Time Zone that you've set as the default for any campaigns created with your account. To make changes to any of these, click the blue Edit button.




Username & Password: This section displays the Username and Email you've set up for your ShortStack account, as well as an anonymized version of your Password.

Below, you'll also see whether or not Two-factor authentication (2FA) has been enabled for your account. For more information on setting up 2FA (highly recommended), check out our Setting Up Two-Factor Authentication help doc.

To edit any of these options, click the blue Edit button.




Email Preferences: There are two options for you to consider in this section; check the box beside each to opt into those particular types of email communication.




Payment
The Payment tab is broken down into two smaller sections:
Payment Method: Here you'll see the card information and billing address of the credit card you're using to pay for your ShortStack subscription. To change or update this, click the blue Edit button.




Billing Contact: This is where you can change the Email, Phone Number, and Organization connected to the payment method you have on your account. The email address you enter here is where any communication regarding billing will be sent. To change this information, click the blue Edit button.




Statements
The Statements tab contains links to all your previous billing statements, filtered from newest to oldest. To view any of the statements, click on the date/time of the statement on the left.





Note: Statements are also emailed every month (or year, for Annual Plan subscribers) to the billing email address on file.