This feature available on All Plans


Contents
Widget Settings
Platforms
Share Prompt
Visibility
CSS Class


Overview
The Share Widget adds social icons to your campaign, making it easy for your visitors to share a link to your campaign in just a couple clicks.
To add one of these widgets to your campaign, click the Share Widget icon in the Add Widgets Panel, or click and drag the icon into your preview area.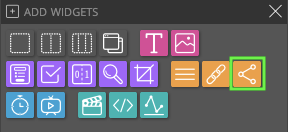 Widget Settings
The widget settings popup is where you'll make any needed changes to your Share Widget. To change the widget name, click on the pencil icon in the top-left (next to the name) then type your new name.





You will also see the CSS ID (starting with a #) of your new widget listed in the top-right corner of the popup.





You'll want to move through each item in the menu on the left side to make sure you've completely customized the Share Widget in the way you'd like. You can navigate through these sections using the Back and Next buttons at the bottom.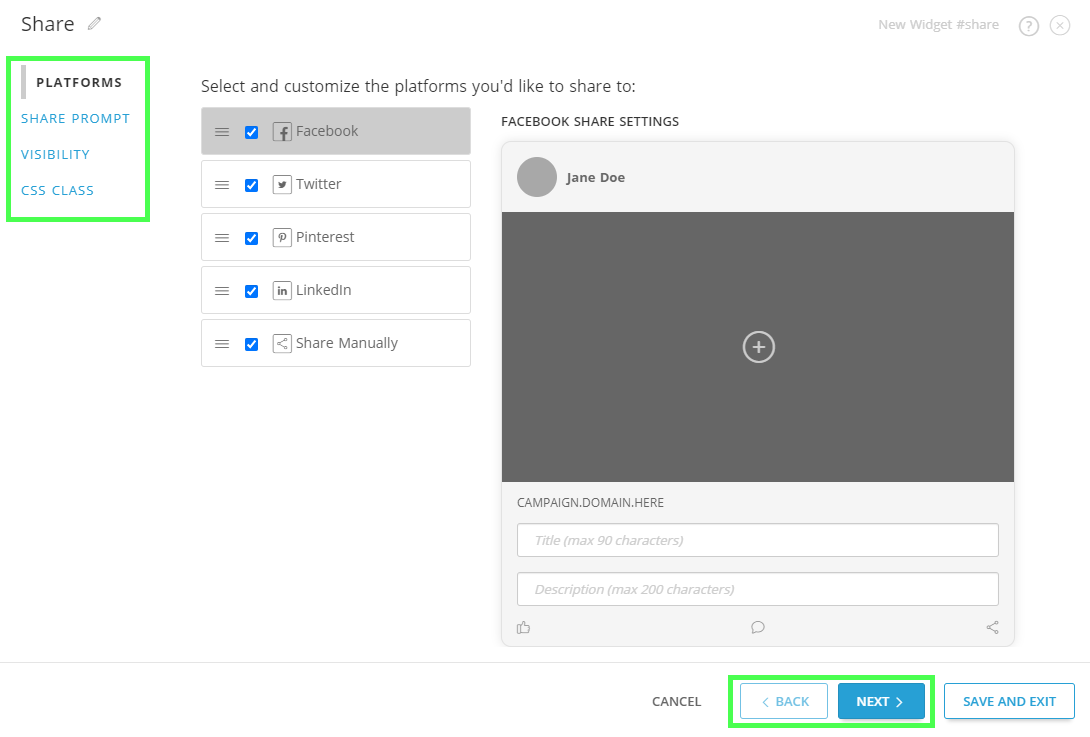 When you're finished making changes to your widget, click the blue Save and Exit button.


Platforms
You'll use the Platforms section to do most of the setup for your Share Widget. The options on the right allow you to adjust your title, description, and image for each social channel.
Check the box to the left of the channel name to include that channel in your sharing options. Click the channel name to highlight it, and you'll see the options for that channel appear on the right - write in your custom titles and descriptions in the fields provided. Click the + icon to upload your own custom image.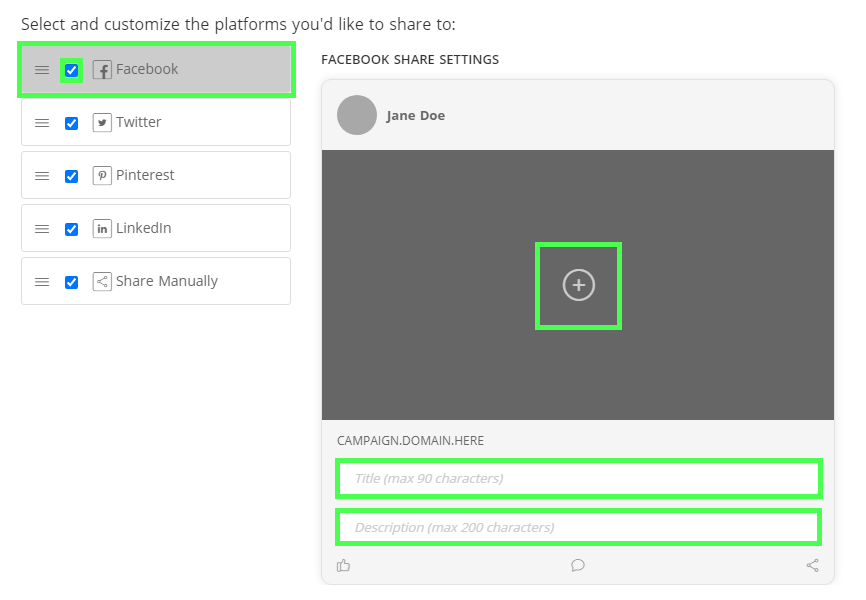 Share Prompt
Set up the text for your call to action in the Share Prompt section. Simply type your text into the Share prompt (optional) field; the text you use will be displayed above the social icons in the Share Widget by default.



Visibility
If you'd like to limit visibility of the widget to a specific date and time, make the widget a popup, only show the widget in your Builder, or limit in which country/countries the widget can be seen; you'd do so in the Visibility section. More information about these settings can be found in the Widget Visibility help doc.


CSS Class
In this section, you can add a CSS Class that will be associated with the Share Widget - that way you can target it with custom CSS code. Rules and naming conventions are provided so that you don't use a class that won't work. Simply add your CSS class(es) to the Extra CSS Classes field.